​

In this issue:
​
The bitter ending
Fixing creativity's image issue
Handling more channels than you have time for
Earning topical authority
Brian Dean edits the beginner's guide to SEO
​
Let's go!
Top of mind:
This is it.
​
The bitter ending.
​
The protagonist does not get what they want. They do not get what they need.
​
They succumb to The Lie, are blinded to The Truth, and end the story unhappily ever after.
​
Is it possible to create for a B2B reader and still have a satisfying ending?
​
Sure is.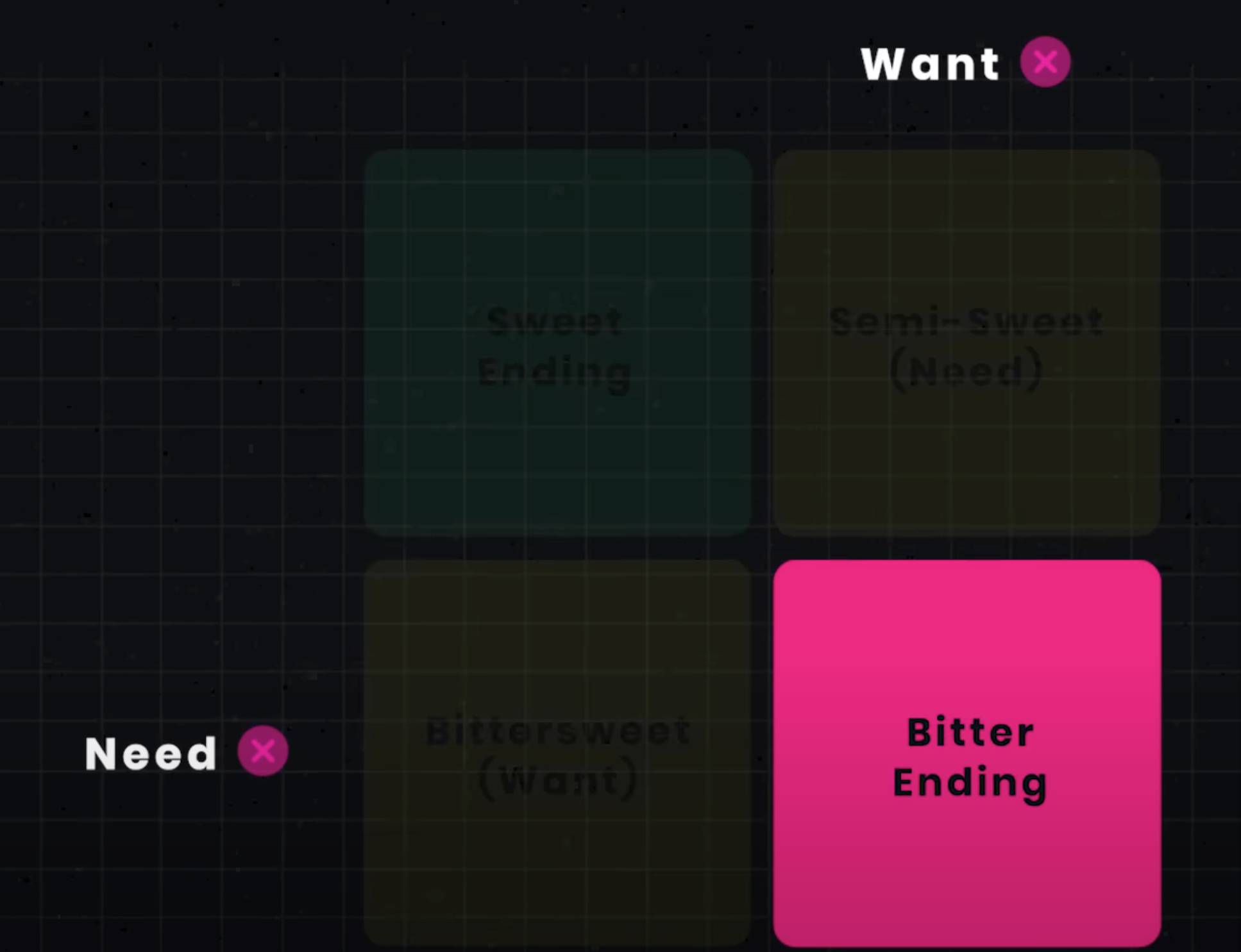 For our purposes, the best way to think of the bitter end is as a cautionary tale.
Sev7en
Requiem for a Dream
The Godfather
These are all examples where the protagonists and the audience all learn difficult lessons.
​
Respectfully, the lessons in each are:
The world is a dark, cruel, unjust place
Addiction always leads to ugly outcomes
Duty and unchecked ambition compromizes morals
Like the other endings we've discussed, the bitter end follows a basic framework that leads the characters to their ultimate downfall.
Introduction
Setting the stakes
Inciting incident
Rising action/challenges
Moral compromise (the point of no return)
Climax
Consequences
​
Here's what that looks like in Sev7en:
​
[Trigger warning – this movie is a murder mystery, if that's not your thing, you should not read further]
1. Introduction to Somerset and Mills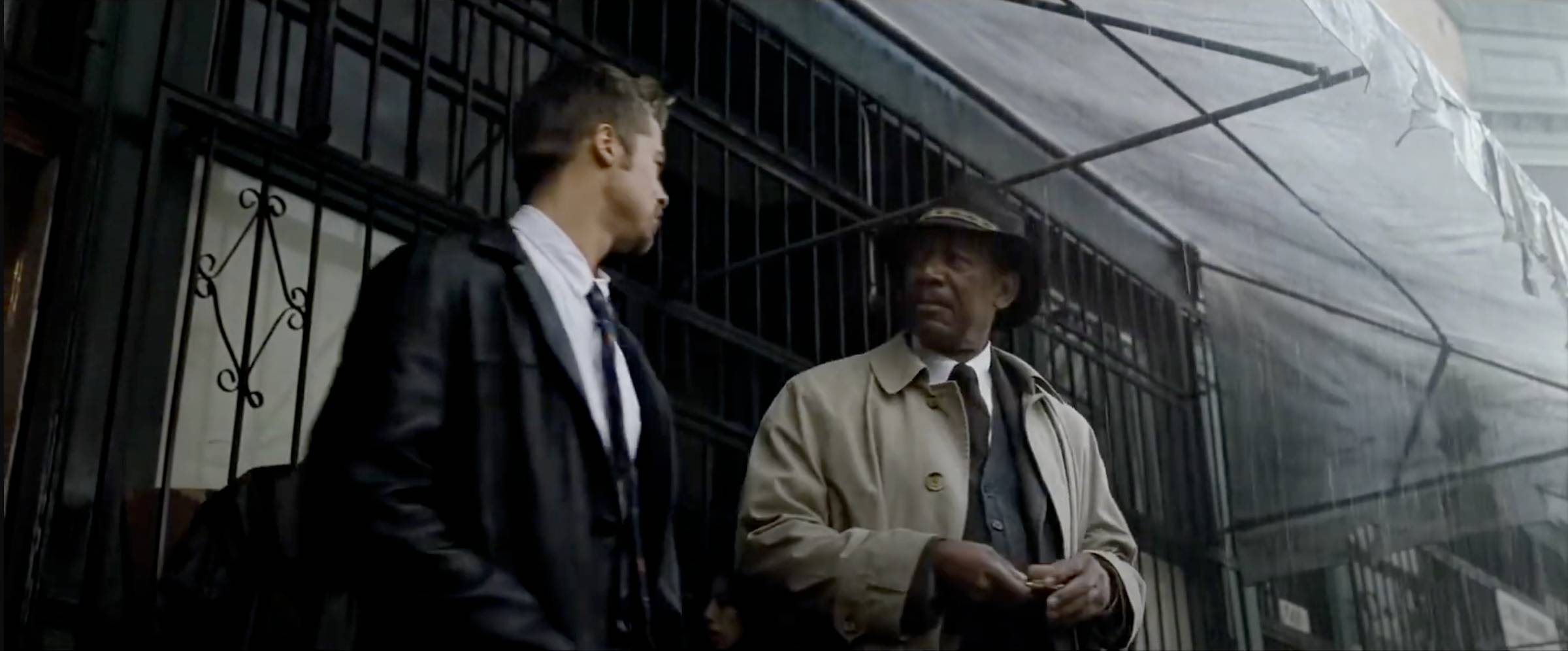 William Somerset is a detective one case away from retirement. He's jaded and weary of the city's moral decline.
​
His partner, David Mills is on his first case in the big city and is eager to prove himself.
2. Setting the stakes with the Gluttony crime scene
They're called to a crime scene where an overweight man is bound, face down in a bowl of spaghetti.
​
Through their interactions, we learn Somerset needs a reason to believe in humanity and Mills needs to learn restraint.
​
3. Inciting incident
The autopsy reveals the victim was forced to eat themselves to death.
​
This continues setting the stakes by letting them know the murderer is a deeply disturbed individual.
​
4. Rising action/challenges with the discovery of new murders
Throughout the film they discover 4 more murders, each resembling a seven deadly sin. They're forced to question morality and the nature of man.
​
The emotional toll increases, as the murderer is always one step ahead.
5. Moral compromise: Follow John Doe
Just as the case feels unsolvable, the murderer, John Doe, turns himself in, promising to lead the detectives to the final bodies if they go alone and without backup.
​
They compromise and follow his instructions.
​
This sets up a far greater compromise in the finale.
​
6. The climax: What's in the box?!
In the end, John Doe leads Detective Mills and Somerset into the desert, where a courier delivers a package.
​
Upon learning what is inside the package, Mills compromises his morals and shoots John Doe.
​
He succumbed to The Lie that he would not let the case get to him. Likewise, Somerset does not get a renewed sense of humanity.
​
​7. Consequences
In Sev7en, the consequences are left to the reader's imagination. Does Mills go to prison? Does Somerset retire? It's left ambiguous so the viewer walks away uneasy about the future of these characters.
We are left with a bitter end.
How does this apply to B2B
On the surface, bitter endings in movies are the biggest departure from B2B writing we've had so far.
​
These kinds of films exaggerate scenarios to show what happens when people are driven past the point of no return.
​
If we keep that in mind, along with the idea that bitter endings are cautionary tales, it creates the perfect framing to show what happens when the reader ignores the problem or chooses a sub-par solution.
This is what those same beats look like in an outline
Topic: Should I switch to a cloud ecommerce solution?
​
1. Introduction
You've built a multi-million dollar business selling raw textiles to clothing manufacturers. You were one of the first to offer online ordering and built your entire operation using on-site hardware and custom coding.
​
2. Setting the stakes
Ecommerce is in a constant state of flux. Customer demands are evolving rapidly, interfaces are easier to use, and there are news reports of legacy brands filing for bankruptcy every week.
Likewise, the immediate cost of migration is high. There are mounting pressures from investors and agency partners to keep the existing systems as not to run the risk of losing data in the process.
​
3. Inciting incident
The site crashes during a critical high-traffic period.
​
4. Rising action
Spend time and money to repair the site, field customer support emails, and respond to any social media complaints. Contact agencies to diagnose issues, and try to get the site back online.
​
5. Moral compromise (point of no return)
Despite prior conversations with the head of IT about potentially moving to the cloud, the agency requires a 3-month renewal of the contract to make immediate fixes and diagnose long-term solutions. Desperate for a solution, you sign.
​
6. Climax
Now that everything is fixed, you assess the immediate cost of repair and the long-term cost of switching and justify that it's better to take 5 hours to solve the problem now than take 3 months to migrate to an entirely new platform.
​
7. Consequences
Time goes on, the cycle continues. Good money gets thrown away after bad and nothing changes.
​
Putting this into action
​
Using the beats above, I might write an intro that reads something like:
​
​Headline: Should I switch to cloud ecommerce
​
​Intro:
​
It's a tough question.
​
You've built your empire from nothing on your own servers. Your customer data, transaction history, and really, the entire story of your business lives in these giant black boxes you've built over the years.
​
Sure cloud ecommerce has become the standard, but the reality is, switching means relinquishing control. Control over your data, your control over uptime, control over your security.
​
Let's consider the situation…
​
​Ending:
Maybe they were right. Maybe you should switch.
​
But you just spent all that money renewing another contract. Switching means breaking up with your long-term agency, finding a new agency partner, re-training your staff, and risking all of the search rankings you've built up over the years.
​
By not switching, you can stick with what you know, and if it breaks, well… you've pulled through the last time, and the time before that, and the time before that, so you know you can do it again, and again, and again.
​
Might as well stick with the devil you know, right?
One last thing on the bitter ending
​
It's human nature to have basic expectations of the content they click on.
​
While I recommend you use this sparingly, I know from experience that bitter endings are very effective in reversing expectations, especially for search-optimized posts.
​
Forcing the reader to reflect on their choices, instead of confirming their beliefs, can be exactly the wake-up call they need to change their actions.
Curious to know what you think.
​
​
Thank you to our sponsor aHrefs


Find the issues that prevent your site from ranking. aHrefs webmaster tools scans up to 5,000 pages website for 100 technical SEO issues that may prevent your site from ranking, absolutely free.
​
What's on our radar?
📝 Kevan's brief encourages creativity​
🕵🏻‍♂️ A framework for discovering search intent​
😎 Ideal customer persona workbook
🤓 The state of content marketing report
​🔥 Brand vs Performance marketing
Let's get social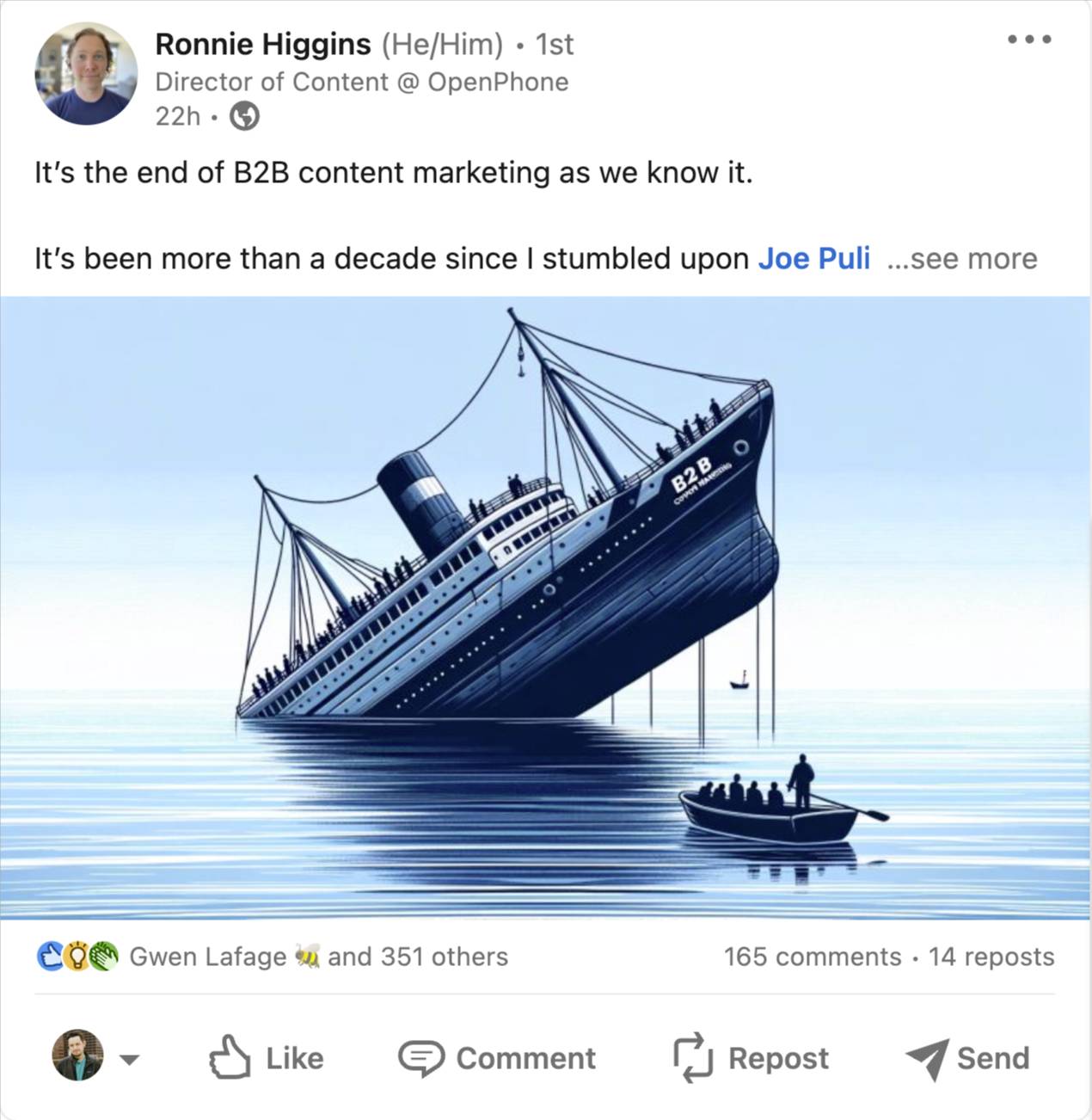 ​The old ways are dying.
​
Studio Insider Ronnie Higgins captures perfectly the angst our entire community has been feeling, and boy oh boy, did this discussion spark a nerve.
​
I highly recommend you jump in with your thoughts. Very great discussion happening here.
From "The Vault"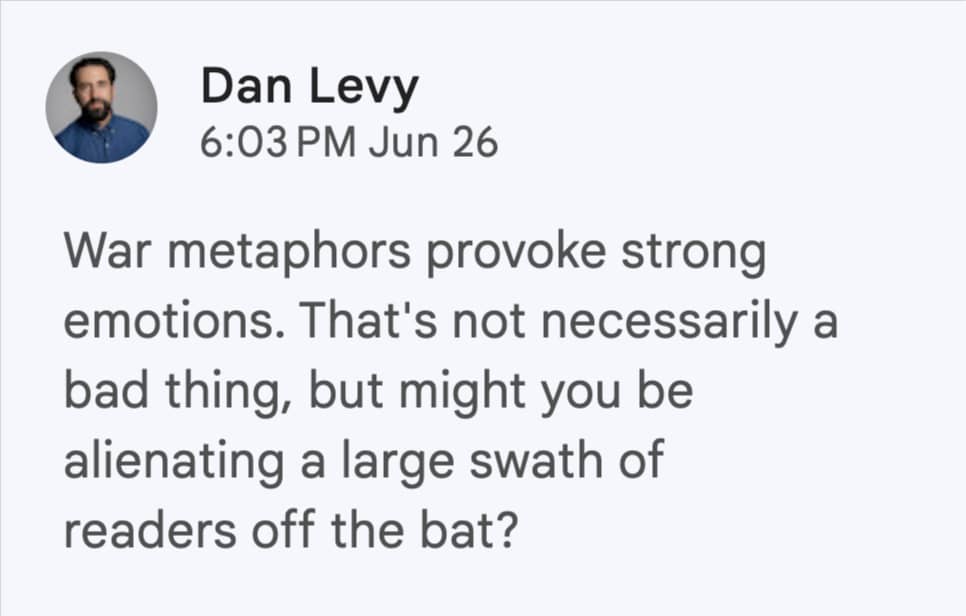 Dan Levy was one of my most impactful editors.
​
In this article, he questions the author's choice of metaphors, calls out redundant language, and discusses pacing which we don't talk about often enough.
​
​Watch him edit
​​Read the article​
What are YOU working on?
Share with us the content you've been making so we can feature it in a future edition of The Studio Insider.
Show us what you're working on!
See you in the next one ✌️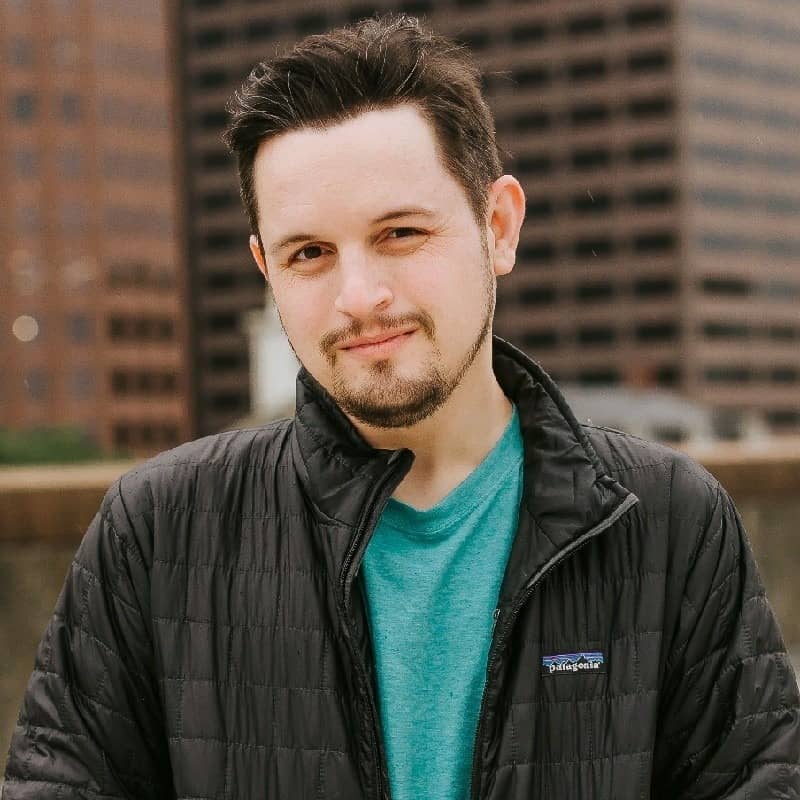 Tommy Walker | The Content Studio
​LinkedIn | YouTube | Book a 1-on-1​
​
One Washington Street suite 3108, Dover, NH 03820
​Unsubscribe · Preferences​